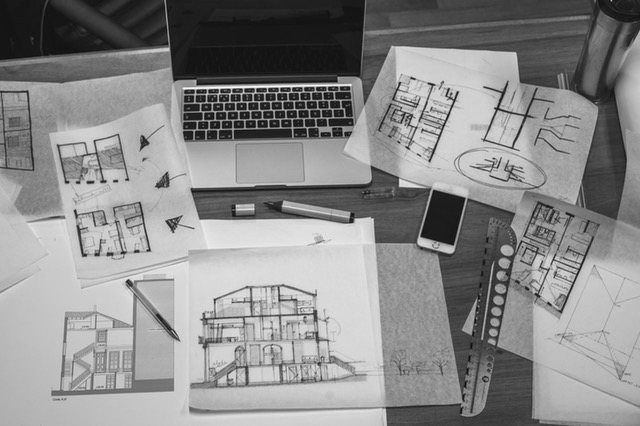 We are all surrounded by the recent buzz about design as a career option. Chances are if you are reading this, even you have come across this field and are interested in knowing what design really means or what a designer really does, right? I am writing this article in an attempt at conveying the length, breadth and the profound scope of this multifaceted role.
When I first decided that I want to be a designer, my knowledge about this field was limited. Like most people, I too believed that good drawing and sketching skills make a good designer. Although it's true that sketching is a critical way through which the designer expresses and explores ideas, but there is more to design than just that. Also, most people falsely perceive design as purely aesthetic, that a designer's role is to beautify things.
What is Product Design?
In reality, design at its core is way of creative problem solving. It is about developing a new perspective of looking at things, integrating the expertise from different domains and being able to connect the dots to create a relevant, better and enhanced version of what was before.
This problem solving methodology can be applied across various fields. From designing a wheelchair that enables a disabled person to move around independently to designing your house to make it feel like a home or the cute little minions from that animated movie that you absolutely adore, are all achieved through the collaborative efforts of, yes you are right, designers! These are some the varied forms that design can take, one of which is the field of Product Design.
A Product designer creates new, innovative products and experiences around products that provide improved usability, functionality, ergonomics as well as aesthetics. He creates products that are a joy to interact with. He empathizes with the user, understands their needs and derives insights to develop products through a process of ideation, development and evaluation.
Why does Product Design even exist
To put it simply, a course like product design exists to simplify the lives of people; and in some cases, to simplify the lives of our fellow earthlings. It is because of the efforts of product designers that you find some products that are functionally sound, aesthetically pleasing and joyful to use.
All of us buy and use products and do a fair amount of research and comparison before buying any product. Sometimes, we also complain if a product doesn't function as per what we expected.
You bought that pair of really cool looking earphones.After you start using them you realize that the earplugs are too uncomfortable and don't fit inside your ears. This is a result of bad or un-thoughtful design that leads to unsavory experiences for the users. Recollect the last time you went to buy shoes, say running shoes. You will remember comparing and trying on multiple shoes to find the ones that are most comfortable, light weight and at the same time look good when you wear them. When you find that perfect buy, you feel happy and satisfied. A shoe that looks amazing but ends up giving you a shoe bite once you wear it, or one that has a soft cushiony sole that gives you utmost comfort but has the dullest of colours and looks bulky on the feet, are both examples of undesirable products.
Today many 'designed' products surround our life! Unfortunately only a handful of them are examples of good design. The famous designer, Brian Reed quoted "Everything is designed. Few things are designed well."
The Indian origin of Product Design
The design methodology is not a trend that has caught up recently, but in fact is an age old practice. One such traditional example is that of the matka. Before refrigerators even came into picture, we used this humble earthen pot in all the Indian households to store and keep the water cool. The simple use of clay moulded into a pot is functional, affordable, and most importantly, sustainable. Isn't it fascinating? The first person who made the matka, was definitely no less than a designer then!
This world needs more designers who do thoughtful design, and thus, a course like product design exists to make people aware about good design and facilitate more people to do good design.
The Product Design Academics
Eligibility wise,some design schools may require you to have a science background but for some, that may not be a prerequisite and anyone who has completed their higher secondary education can apply. Every design school has separate entrance tests where you'll have to clear the admission process comprising of a Design Aptitude test followed by a studio test & personal interview.
The product design course is all about having a hands on and practical approach towards learning. Unlike any of the other mainstream courses, a design school will focus on learning by doing. There are no textual subjects, rather courses that you will have to complete.These courses focus on the various concepts of design. You work on multiple classroom projects. It will introduce you to the design process and make you well versed with the various stages of the process. Some of these will be individual projects while for some you'll be working in teams.
In the real world, a designer will never work on his own in isolation. He will work as a mediator, bridging the gap between what the user needs, what the business demands, and what is possible, do-able and feasible through technology. This means that you will require excellent communication and listening skills, and a design school will help you build that. An education from a design school will enrich you by being open to criticism, listening to what other people have to say, standing up for your work, communicating your thoughts, being appreciative, observant, and most importantly, pushing yourself to do better.
Do you have these qualities in you?
Admittedly,if you are looking at Product Design as a career, you have to put in a lot of hard work. Most people think that because this is a creative field, you will be working at your own pace. You will be designing products that you like. In reality, it's not all roses. Right from the research phase you will have to step out on field, talk to the real users. You have to convert those insights into solutions and build a prototype to test. Finally, you have to validate your solution.
There will be a lot of working in the workshop with a variety of materials, using industrial tools and machines. And a lot more of sleepless nights trying to finish all this on time. Product design requires a great deal of understanding of both materials and manufacturing techniques. As a product designer, you have to stay aware of new developments in varied fields. Be creative and have a keen eye for detail.
Product Design demands a lot of mental as well as physical effort. At end of the day, when you see a design you have worked on, function properly and come to life, it all becomes worth the sweat.
In order to be successful you must have the ability to know what looks good. You have to come up with new ideas and develop your own style. However, creative flair alone is not enough. Working independently as a freelancer is common, but many artists and designers don't actually work entirely on their own. When working as part of an art collective or for a design agency, it is essential to develop excellent communication and teamwork skills.
Opportunities for a Product Designer
India is still a developing country. It is struggling with a vast number or problems in various areas like transport, education, medicine, sanitation etc. Some rural areas even struggle with basic necessities like clean drinking water, food, and shelter. There is a huge scope and need for innovation in these areas where product designers have one of the biggest roles to play. The 'Make in India' initiative which is devised to make India into global design and manufacturing hub will open numerous opportunities for Product Designers
As more and more things  are becoming digital. We are moving towards the online world. Product designers also help create experiences in the digital world. Your expertise is not limited to a single field. It opens up opportunities in various fields like medicine, manufacturing, city planning, entertainment, digital experiences, social awareness, sustainable living, education etc. The list can get as long as you wish to explore. This field is extremely vast and its scope is unfathomable and constantly evolving.
[

](https://www.facebook.com/avani.tavargeri?fref=ts)

As a designer, you may work in a manufacturing company, service company or a design studio. Some designers also prefer working on their own as freelancers. For the first few years, you can expect a decent pay. As your experience increases and you have impactful work in your arsenal, it's bound to reflect on your pay cheque. Remember, you will always be involved in interesting work, if you love what you do and do it passionately. Do not fear to work hard. Give it your best, and you will definitely be successful.
Cheers!
Avani Tavergeri
avani.tavargeri@gmail.com
(Product Designer from MIT college of design, Pune)