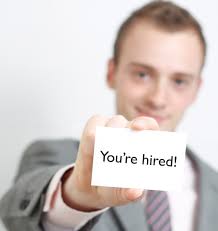 Think beyond the cover letter, job application, resume and preparing yourself for the interview. Read the 5 tips below to know what the hiring managers are looking for
1. Are you THE ONE? This is the most basic aspect every hiring manager is looking at. In simpler terms, do you have the skills, experience and education to be able to fulfill all the requirements listed in the job description? Do you have qualities that will help you sustain the demands of the job? Does your resume demonstrate that you were able to succeed in a similar role in the past?
2. Why only YOU? Every bullet point on your resume should demonstrate what you could do if you were hired. For example, you may know that your internship with a certain company shows management skills, but few hiring managers might not have that kind of a time to sit and figure out that connection. The golden rule is to spell out how your experience has a strong co-relation to the job for which you're applying. Be open about mentioning how you developed leadership and other skills you picked up while working on the project. Remember that your resume isn't merely a way to show what you have accomplished in
the past but it is also one of the best tools to demonstrate what you could accomplish for the organization you are planning to work with.
3. The taste of FAILURE: Every hiring manager will assess you on your definition of Failure. He will observe your stance when asked about how you will handle the downfall. He will test your emotional quotient more than your intelligence. Every one of us has gone through the painful events at every stage of life. Be prepared to narrate your strength of bouncing back. Be ready to show the attitude of Phoenix. Your resume should reflect your 'Bouncing Back' personality. But keep in mind, your resume isn't the story book.
4. The Driving Force: Your resume should reflect your values and vision. Every hiring person will be interested to know the pillar of your thought process and living. He will be curious to know whether you really Dream or Day-Dream. He will be interested to see whether your values and vision are in harmony with the organization to which you are applying. If your goal is in synch with your future organization, the probability of your work involvement and integrity to the organization will be more. If your values and organizational values are in connection, the probability of stress-free working is more. Hence never forget to mention the principles with which you will never compromise.
5. Are you INSPIRED: Every hiring officer is looking for a person with zeal. Your resume should reflect your personality. It should communicate with the hiring manger that you have that zest which they are looking for. You are the who can take decisions and who can lead self and the others. Your resume should say your passion to creatively contribute in your future company's mission. Your resume should reflect your multi-dimensional personality. In all, it should say whether you are INSPIRED or not!