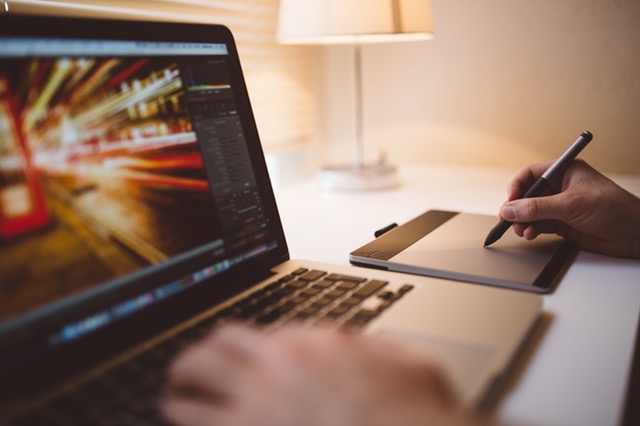 Hey would be creative heads out there, I am Poonam, a User Experience Designer in Adobe Systems, Bangalore. I have a keen interest in drawing, painting, classical dance (kathak) and crafts from early childhood. Hence, I was always referred to as a 'creative one' in my family. My parents always encouraged me to pursue my passion. They were glad about me wanting to take up a slightly unconventional career path. I am constantly looking for some food for thought by learning different skills and exposing myself to new environments and experiences. My most recent obsession has been my #100daysoforigami project. I folded and photographed one origami animal/bird every day for the first 100 days of 2017. This article is my genuine try for all those creative enthusiasts who want to pursue a graphic design as their career . Dear parents, this is for you too!
What is Graphic Design
Graphic design is all around us, in a myriad of forms, both on screen and in print. As the name suggests, Graphic Design is process of visually representing ideas and messages by combining images, symbols and text to communicate with the users. Although the conventional uses of graphic design include logos and branding, editorial design (for magazines and editorial), packaging design, way finding systems, etc; with the changing times the scope of graphic design has widened too. The form of communication can be physical or digital and anywhere in-between. The desired impact of the projects may range from providing information, invoking thought, selling a product or even stimulating meaningful conversation with the audience. Because of the abstract and versatile nature of this discipline, graphic design goes far beyond simply combining text and images.
The work of a graphic designer can happen at any scale, from the design of a single poster for a campaign to infographic of complex information system or a company's digital platform to the experience of a digital product. The new age digital transformation has changed our lives and also the form in which we consume content. Since personal computers and other digital devices have taken a really important place in our daily lives, many graphic designers have become involved in interface design. This would include web design/ software design, iconography and designing the look and feel of the product or service for desired effect on user. Another related field is the user experience design which considers how a user interacts with and responds to a product, an interface or a service. Graphic design being a core discipline covers a big spectrum of creative careers which often overlap.
**Do you have these qualities in you?
**
The graphic design course is also constantly going through a transition as these fields keep emerging. The basic principles for effective communication stay the same. The understanding or typography, colour theories, lay-outing skills remain the foundational skills. Being able to communicate an idea or experience with mere images and text stay at the core. Only after trying your hands on different kinds of projects one can decide which aspect of Graphic Design they want to specialize in. A student with the ability to break down complex information systems into simplified infographics can get involved in data visualization projects. Someone with a passion for improving our experiences with the digital products can choose to become a user experience designer and so on.
Along with artistic attributes and aesthetic sensitivity an analytical mind is a must for a graphic designer. The design process is essentially a problem-solving process that demands the designer to be able to identify the problem in a system, interact with its users, analyze the causes and possibilities and design creative solutions. Communication is needed for both interacting with the client and the audience. It is a skill that we develop through this course. Inculcate the habit of learning by yourself, imbibe confidence, and open up your mind to assimilate the diverse nature and effect of graphic design practices.
**Opportunities for a Graphic Designer
**
Your working experience starts during your final year project itself. I worked as a game designer in a startup called Greysprings Solutions in Hyderabad. My role demanded designing an entire game from scratch. There are endless opportunities for graphic designers. Depending on the stage of career and the context of the work and expertise, graphic designers can find themselves with several different job titles. The roles can range from graphic designer, visual designer, web designer, information designer, User interface designer, User experience designer, information architect, content strategist, graphic artist and so on. One can opt to work with a big team in Multi-national Corporation or join a small design firm/studio working on multi-disciplinary projects or even freelance as an individual designer. I would highly recommend every student to get as much hands on experience as they can. Take up as many small internships you can, work in collaboration with other design disciplines, find like minded people to have stimulating conversations. Do not shy away from meeting the people that inspire you; reach out to them and see what you can learn.
The 'Graphic Design' academics
Colleges offer both a graduate and a masters programme in Graphic Design. The undergraduate program consists of a one year foundation course where you are exposed to the basics of various design fields and based on your aptitude, they help you pick a design course. Whereas, for a masters degree it is assumed that as the students are mature and they know what they want to pursue and can thus, apply to the discipline of their choice. I think in terms of developing design thinking choosing the right college does make a big difference. But it is a no brainer that just a professional degree from a renowned institute cannot make you a successful designer.
The field demands to have a highly proactive approach of learning. Learning at NID was a unique experience for me. The multi-disciplinary nature of college is very beneficial. For a person who gets bored very easily by doing just one thing, it is a wonderland. NID does a great job of opening your mind. It succeeds in reminding students of the diverse nature and effect of graphic design practices. As the subject of the projects keep changing, they really demand you to be interested in almost everything around you, be it music, politics, science, culture, technology, etc. The masters degree is open to almost everyone with any bachelors degree. For your convenience, I have shared details about NID. NID offer 2 programs in Graphic design & AdmissionsHandbook For others..Google it!
 _In the end, I would just say from bottom of my heart
_[
](https://www.facebook.com/savalepoonam?fref=ts)
" Creative people come in all varieties and professions. Take the time to learn more about what it takes to work in the industry of your choice. But the first step is to acknowledge your unique interests and skills that you are passionate about and finding ways to build a career around them. Having a degree is never enough for a creative career. Find techniques to stay self motivated and constantly surround yourself with inspiration that will encourage you to put your thoughts into actions. It might take a while to hit that sweet spot where your area of passion and your career come together, but that's the beauty of your creative journey. Have an open mind and always be ready for new experiences that come along the way"….
Cheers!
Poonam
User experience Designer, Adobe Systems
Masters in Graphic Design, NID Ahmedabad
https://www.behance.net/PoonamSavale
https://www.instagram.com/savalepoonam/