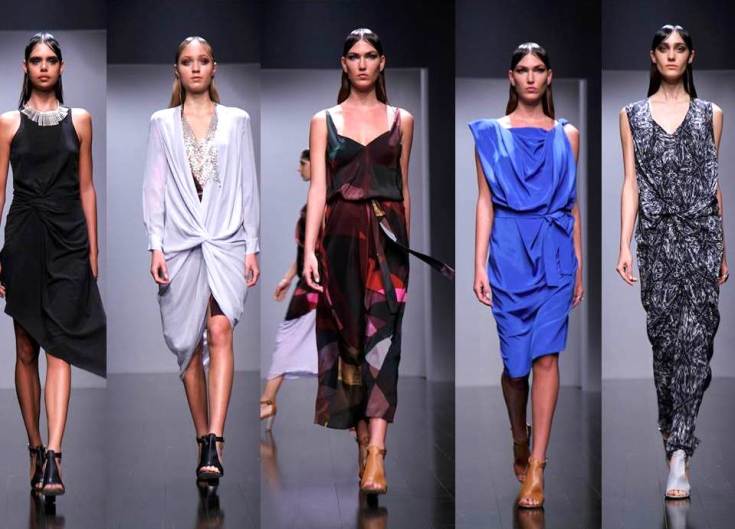 What person's job combines creative risk taking, market research, 18 hour days of hard work and the glamour of the stage? The answer to that is the fashion designer.
Coming from a family of doctors, as a youngster, I had imagined fashion design as a very different field. I had thought it was a world of beautiful clothes and beautiful people. The realities of this profession are quite different. Hopefully, this article will give an insight into how the world of fashion functions.
I completed my Bachelors of Dental Surgery and then decided to pursue fashion design at one of the best colleges in the world- the London College of Fashion. This was only possible because of the tremendous support offered by my parents. After completing a degree in design and pattern cutting, I returned to India. A stint with a designer in Mumbai offered me a close look into how the fashion industry in our country functions. Once I felt that I knew the ropes, I decided to take the plunge by launching my own label of designer womenswear.
The 'Fashion Design' Pyramid
We usually understand a fashion designer to be somebody who designs the clothes. The clothes that celebrities wear, but that is just one part of the industry. Every T-shirt bought online has somebody's hard work behind it. Someone has designed the graphics, somebody has chosen the fabric, has decided what length will look good and what the shape of the neck should be. This is the field of mass fashion. It is one of the largest industries in the country, and one of the fastest growing. The mass market encompasses various levels- from international high street chains like Zara, domestic chains like Biba, various stores like Westside and Big Bazaar, right up to the stalls on Fashion Street.
The flip-side of this is the High Fashion market. That includes the Couture and Prêt-à-Porter lines from various design houses. Couture is the most luxurious end of the fashion spectrum. These garments are made by hand with exceptional attention to detail. Prêt-à-porter tries to make this level of fashion more accessible by employing a similar level of detail but with less expensive production methods.
Roles in the Fashion Design Industry
All levels of the fashion industry require specialists in various fields. Dedicated teams are needed for trend research, market research, garment, textile and print design. Once the decision of what clothes to make is reached, pattern cutters create the templates from which the fabric is cut and sewn by machinists. This is the stage at which a sketch or concept is converted to reality. The garments are then styled and photographed for magazines, websites and on celebrities. This way, they are exposed to the public at large. Buyers work with merchandisers at the supplier end to order stocks for stores where finally, the consumer can purchase them.
Thus, trend researcher, fashion designer, graphic designer, print and textile designer, pattern master, machinist, stylist, fashion photographer, buyer, merchandiser, visual merchandiser are the some of the various roles which one can aspire to within the fashion industry.
The 'academics' of Fashion Design
In the past, academic qualifications were not a prerogative to enter the fashion world. Now, because of a more formalized structure, it is better if one has a relevant educational background before seeking employment in the fashion industry. Institutes abound which claim to teach you all about fashion, but there is a great disparity in the type and depth of education offered. Institutes like INIFD offer courses in fashion of various lengths and levels. There are a number of colleges in the country, like NIFT, which offer bachelor's degree courses. The place where you study is a very important consideration for future employers. Because of the sheer number of places where fashion education is offered, only students of reputed institutes can be assured getting an interview.
At the top international institutes, the depth at which a student is allowed to explore their own creative potential is much greater. This allows for a more comprehensive education which is not really matched by any course offered in the country. However, a student needs to be of a creative bent, with a desire to explore new materials and techniques and tremendously hard working to get the best of the education on offer.
Planning your Career
If you intend to have a career in fashion, it is important to decide which way your priorities lie and what your strengths are.
Working as a part of an organization or company may not offer complete creative freedom. But  it offers the kind of stability not possible to most designers. Career progression is smooth and the risks associated are not high. Once you find your own niche, this type of job profile can be very rewarding. The salaries on offer are comparable to market standards.
Working with a design house is also a rewarding experience. The teams tend to be smaller but there is more creative freedom on offer.
Starting Your own Label
Most graduates of fashion courses have a dream of starting their own brand. Even though this sounds appealing, it is an extremely difficult path. A lot of people, women especially, try to run their business from home. Doing it professionally is very different. The investment required to set up a brand is very high. This includes monetary investment for machinery, materials and workforce. It also includes creative resources. One has to have the ability to constantly innovate. To understand the changing market and stay one step ahead of the competition. If you believe in your own creative vision and have the ability to take criticism on the nose, there is a chance that you might succeed. There is extreme saturation in the market. With players large and small contending for the same consumer wallet, the competition is cutthroat.
If you have no insider help, getting noticed in such a scenario is difficult. Various 'Fashion Weeks' have popped up which provide a platform for designers to engage with buyers and customers. If a celebrity sports one of your designs, your visibility increases. But as fashion changes so very often, it is important to make the most of such a break when it comes your way. If your visibility decreases, somebody else is just waiting to step in to your spot.
Innovation v/s Stability
The skill lies in finding your niche. If you want to be financially successful, it is imperative to make crowd-pleasing designs. Take the wedding trousseau for example- beautiful and expensive garments, rarely repeated. Working in this sector of the Indian fashion industry is money making. However, it is not at the cutting edge of design.
If you are an innovator at heart, you will have to count your pennies as you strive to sell your creative vision. The trick lies in finding the balance.
_[

](https://www.facebook.com/janaki.dani)Those who are blessed with a strong financial backing and contacts in the film or design industry to help them, find it easier to make a break in the big bad world of fashion. Others have to work extra hard to compensate for what they do not have. The financial stability of any brand is based on its ability to sell in a reliable way. This is the key to a designer's success._

 
On the whole, for the average Indian student who intends on pursuing a career in fashion, it is better to be employed in the mass market sector, where salaries and career progression are more predictable, rather than to venture out on their own. Whatever sector of the fashion industry you choose to adopt, there is nothing quite as rewarding as seeing your creation become reality.