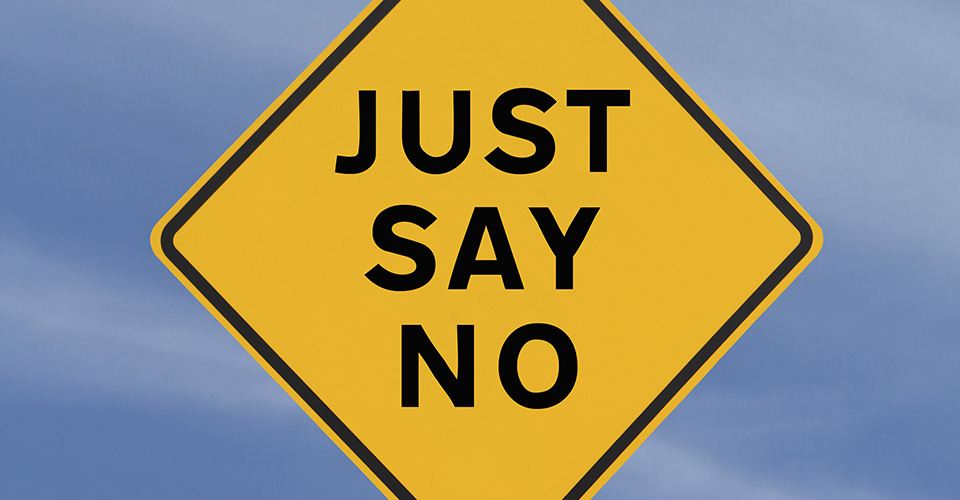 By far the easiest term in the lexicon yet the most difficult to say it out loud… N-O… this two lettered word is a double-edged sword. It has the cyclonic strength to make your world go topsy and turvy and also has the potent power to  set everything right… just in a fraction of a second. The easier it is to pronounce the word, the more helpless it makes us while applying it in our lives. It is so difficult to actually put our feet down and scream "NO".
Our inability to say no in a lot of situations ends up making us feel miserable, angry and helpless. It makes us whine and yell, crib and cry and even kick ourselves a million times. We hate and curse ourselves for not being able to muster up enough courage to pucker our lips and utter a loud, firm and echoing "No." Failing to do so, puts us into a vicious circle. We continue to be befuddled as our to-do list continues to pile on and on to the extent that it becomes really difficult to breathe easily. More and more work is shoved in our to-do list, yet somehow saying 'No' doesn't even figure out in our list of options.
There is a famous saying in Hindi that says, 'Duniya mein sabse bada rog, kya kahege log?' (The biggest illness that troubles people is what others will think of them) The inability to say no stems from the fact that we want to please everyone. It is also a personality problem that might have its roots in one childhood. For example if you have been denied positive reinforcement in your early years, then your need to seek approval and get accepted by others is greater in adulthood. Saying yes translates into getting an easy inclusion in a group or the larger majority. We human are social animals and it often becomes very important for us to 'go with the herd' or 'conform to the norms of the group' that we all are invariably a part of all through our lives.
Saying 'No' means left out in the cold. New Jersey based Psychologist Patricia Farrell believes that the need to please into 'being nice'. Now 'being nice' of course has a million of connotations. From accepting invitations to parties or social events where one feels like a fish out of water on one's personal front to accepting professional projects or added responsibilities at work which often result in a panic attack. The answer and the ultimate solution to put an end to this vicious circle is to of course stand firm and say 'No' We know it's easier said than done but saying nothing at all can do more damage than good.
Here are magic words to use the word 'No'…
Make your No a firm one, be assertive and do not buckle under pressure at the last moment.
Realize that you need to set boundaries for yourself. And allowing others to overstep all the time might prove to be harmful for your physical and mental well-being.
And finally the most important thing… the litmus test. Ask yourself if the task that you are taking in hand is beneficial in the grander scheme of things. Whatever you decide, stick to your plan. Explain to the other person why exactly you cannot accommodate his request.
Remember guilt-ridden and half hearted requests are rarely accomplished.