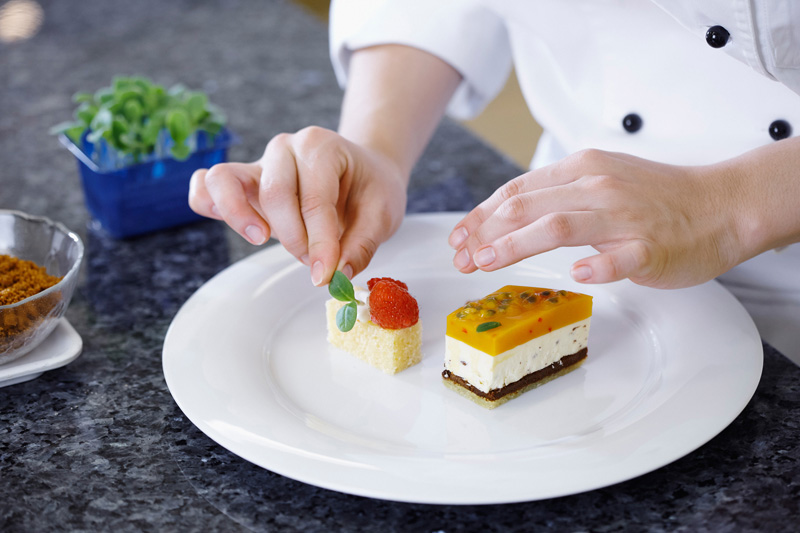 When asked about what I study it is usually followed up with confused expressions and, "Mhanje kaay asta?" Culinary Arts does sound alien-ish but this field has been in existence not long after man realized food is essential for survival. Culinary Arts basically means the art of preparing food. Yes, 'art' because food is believed to do more than just filling the stomach. Having a well-prepared meal can be a memorable experience, something worth cherishing. This article is meant to shed light on this field and the stuff that comes along with pursuing it.
What is Culinary Arts
Culinary Arts branches out from the core of Hospitality Industry. This industry is vast and related to the management of hotels, resorts and special event settings. Culinary Arts is a specialized vocation that yields to and from the industry.  People who practice this art are called Chefs or cooks. To become a professional chef, you're required to have a specific set of skills. An expert chef has knowledge about food science, nutrition and diet, hygiene and safety principles, knife skills and an understanding of palates and aesthetics.
Food science is the use of physical, chemical and biological sciences to study the nature of food products. For example, milk curdles when you add a drop of lemon juice because the citric acid reduces the pH levels and causes the calcium to coagulate and you end up with a scrambled eggs version of milk.
The study of nutrition and diet enables a chef to combine ingredients with respect to health of the consumers. Like, combining yogurt with fruits can make you sick as the bacteria in yogurt acts on the sugar present in the fruits, making it toxic.
Hygiene and Safety principles are important for anyone working in the kitchen as there are various hazards that could contaminate the food. It is a practice of keeping the workspace clean always, storing raw materials at the specific temperatures required, handling knives and other kitchen equipment with care to avoid accidents like cuts and burns. Also, personal grooming is a major factor. One has to follow the common practices; Not having loose strands of hair that could fall in the food, no nail varnish or accessories on the hands etc.
Knife skills, as the name suggests, is a practical study of different types of knives and the techniques of cutting. It takes years of practice to achieve a good control over the knives. These skills also include the importance of sharpening, cleaning and storing knives appropriately to keep them as good as new.
Some people are naturally gifted with a good palate while some must develop it. Tasting food is like a study, identifying the ingredients, deconstructing the recipe, observing the nuances of spices and how it elevates the flavours of the dish, etc. Chefs with years of experience are well-versed with palates and can use these skills to produce a dish that will cater to all the senses of the diner. Which means, when the dish you ordered is being served, it should grasp the attention of all your sensors, majorly the eyes, the nose and the tongue. This also involves having a sense for aesthetics, to make a dish look pleasing and inviting. We've all seen it on Masterchef, presentation is key to making the meal a good experience and chefs must know how to be creative with plating.
Culinary Art 'academics'
For me, this journey has only been a year long. I got a Diploma in Culinary Arts from a school in Switzerland, followed by an internship in a restaurant. There are thousands of schools that provide education in this field, all over the world. With respect to India, there are a few reputed schools like IIHM, Manipal University, which offer courses related to cooking. Most people start out by getting a Bachelor's degree in Hotel Management and then choose Culinary Arts as a special major. These programs have a lot more to do with the overall management of a hotel or restaurant and cooking is a part of it. To run the kitchen effectively,Chefs also need to be aware of business skills. Even abroad, in specialized programs, they include management lessons as a part of the course .
For instance, the study of commodity purchasing and food merchandising helps chefs while sourcing raw materials from suppliers. Which means they can negotiate to get a good deal on the products, they are aware of the systems in place and they can find reliable suppliers that provide good quality produce. Essentially, a chef needs to know his cooking skills and have an understanding of business management.
Challenges in this field
Just like other business modules, this too requires teamwork. This is not a job for one-man (although some chefs have proved this wrong). It's about working with several people to getting the desired result every single time. This job can be physically taxing, as you must be on your feet constantly. You don't get a lot of breaks. If you're in good business, you're moving fast as a hamster on a wheel. One must be comfortable working under pressure and have to be multi-tasking. Also,be alert and supportive member of the team.
You work for more than 9 hours daily. To add to it, you have lesser holidays than others. Forget about the weekends off! Sometimes, due to the pace of work and pressure, tempers rise in the kitchen. Precision and quality are the keys. Each time you send a dish out it must look and taste exactly like the one before. And like Marco Pierre White says 'Customers are the most important.' You have to put someone's wish into execution and make it come true. On a plate! It is taxing, but if you really love cooking, it can be very satisfying. After a long service, all the bones in your body might ache but it's a good feeling to have been of service to someone. Also, you feel productive! And your reflexes are sharpened over time. Professional chefs are quite resilient humans. Even during their old ages, they can be on their feet for as long as required.
'Culinary Arts' It's a team game
The kitchen brigade has several members that form a team. The hierarchy is listed below, with descending authority.
Head Chef- The kitchen chief. He is responsible for the overall management of the kitchen. He creates menus, purchases raw materials and oversees training and supervision of the staff.
Sous-Chef – The sous-chef is second in line of command and receives orders directly from the head chef. He also fills in when the head chef is unavailable.
Saucier- This person is mainly in charge of making sauces and dishes that include meat.
Chef de partie (Senior chef)- Chef de partie means 'chef of party'. He is responsible for a specific station where they make specialized dishes from the menu
The Cuisiner (cook) or Commis chef (junior cook) work at specific stations too where they make a specific list of dishes from the menu. They report to Chef de partie.
Apprentice- An intern, typically students are responsible for preparatory and cleaning work.
Porter- The person in charge of washing and cleaning all equipment used in the kitchen and putting it back in specific places.
Future Opportunities
With a Bachelor's degree (also during), students can get hired as apprentices where they gain experience and can climb up the ladder to get to the position of Head Chef. It takes years of work experience and development of skill to get there. But some of the most famous chefs in the world started out by washing dishes and after years of training and learning, they've managed to succeed. It takes a few years to attain financial stability in this field but if you start early and work hard, you can grow quickly.
[

](https://www.facebook.com/piyusha.jere?fref=ts)

Once you've started climbing the ladder, it's important to acknowledge your strengths and work on your weaknesses. Also, finding out what kind of cooking interests you the most and pursuing it with vigour. For instance, when I started cooking I was majorly into baking. After a year, I've realized my strengths lie elsewhere so I should focus on that.
In conclusion, Culinary Arts is a viable field to go into. The pre-requisites are curiosity, willingness to learn, patience and love for food! Happy cooking!